This article may contain affiliate links. I will make a small commission if you make a purchase through one of these links, at no extra cost to you. This is how I hope to keep the website up and running for years to come! Please read my disclosure for more info.
You ever feel like time is flying by? That you cannot fathom how much time you've got left? Did you spend your time well? This abstract idea of your life is very well illustrated using a Life Calendar, let me explain.
Remembering that I'll be dead soon is the most important tool I've ever encountered to help me make the big choices in life.

– Steve Jobs
I remember going to a workshop several years back and a lady started handing out toilet paper, maybe 9 or 10 sheets together, telling people to take the paper and count 1 sheet per decade that they had lived and remove that from the paper we were handed. Holding up the remaining paper she told us, this is about the amount of time we have left – the piece we had just thrown away was the time we had spent. Now of course, this lady was trying to sell another workshop to the audience and using fear to do it, a strategy I see a lot and don't quite appreciate. However, the message was clear and nicely translated into an understandable manner.
In blogging I, of course, can't be handing out physical toilet paper – but I was reminded of this when coming across a concept called Life Calendars last week. An idea that seems to originate from Tim Urban's blog post, titled "Your Life in Weeks" back in 2014. I had of course seen them pass me by probably, but I hadn't been writing a blog about money, life and career before.
As the authors in "Your Money or Your Life" have you calculating all the money you've ever earned in your life, and showing how little is still part of your actual net worth, a Life Calendar takes not your money, but the time you've had – and might still have – to visualize the strong message of scarcity of time. Personally, I am not sure whether it inspires motivation or fear – but anything to get yourself of the couch, I guess!
As Tim Urban already proposed in his blog post – the best way to spend your weeks fall into one of two categories – the worst way is to fall into neither – these categories are:
Enjoy your weeks
Use your weeks to make your future more enjoyable
Have a look at my rendition of a Life Calendar pictured below (and also available for download below) and let's talk about how these two uses of your weeks relate to personal finance.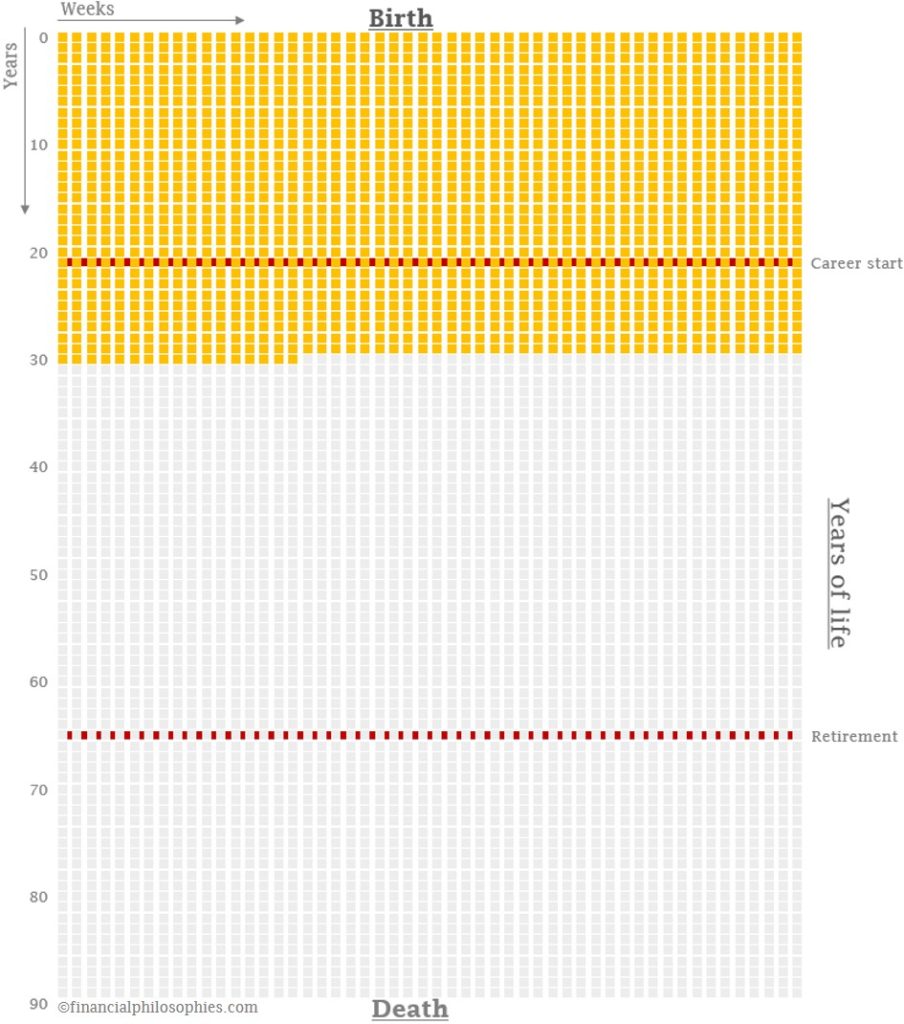 Live in the moment - Enjoy your weeks
Sounds simple enough, use your weeks to find enjoyment, be happy! But be aware that living in the present can badly damage your future and thus it is important to keep within the limits of your budget, focus on getting your job done – whether it is getting your degree, building your business or just excelling in your career – and also remember to contribute to your retirement (if voluntary options exist for you) and to save for a rainy day in your emergency budget.
If enjoyment today hurts your future – no retirement, crippling debt – did these things really bring fulfilment?
Of course, when you're at the financially free and secure – perhaps any week can be a week to enjoy in the moment – why else would you pursue these financial gains in the first place. But even when you're still building your financial dreams, it is important to spent time and money on fun – life and riches are meant to be enjoyed, albeit in moderation – this is why a fun budget exists.
Enjoying the moments while your kids are still young, while your (grand)parents are still around – moments you cannot get back – these are the ones that you should cherish and enjoy now, without a doubt. Anything else, ask yourself first – can I use this moment to make my future more enjoyable?
Live for the future - make your future enjoyable
Delayed gratification might be the most powerful habit one can have when it comes to the combination of time and money. Books about habits like James Clear's "Atomic Habits", Sean Young's "Stick with It" and probably a lot of others talk about the power of delayed gratification.
Spending a week to ace that test and get that degree, suffer a year to get your business of the ground, work a weekend every now and then to get that promotion – reaching your goals can give fulfilment on its own, of course. But these kinds of examples of (perhaps) less enjoying a week in the present can significantly (and permanently) increase your financial power and speed up your path to financial independence to give you freedom to enjoy every week.
Especially if you combine it with investing and the concept of compounding interest – a process in which the money starts to grow by itself through earning interest on interest – the power of 'sacrifice' in the present can mean a whole lot of enjoyment in the future (where 'sacrifice' could mean nothing more than paying yourself first 10% of every pay check).
I think it is important to point out though, that it does require action – good intentions mean nothing if you don't act on them. If you decide to 'sacrifice' money every month to invest, but not actually buy any investments – you'll feel bad both now and in the future. And this bring us to the last option – the neither weeks, neither enjoying now nor building for the future is just not something you'll want to aspire, as it feels terrible. With that being said, I close with perhaps the strongest message in Tim Urban's "Your Life in Weeks"  – "the boxes can also be a reminder that life is forgiving. No matter what happens each week, you get a new fresh box to work with the next week".
Do you find the idea of a Life Calendar inspiring or depressing? Share your thoughts on whether you would use a Life Calendar!
We are sorry that this post was not useful for you!
Let us improve this post!
Tell us how we can improve this post?