This article may contain affiliate links. I will make a small commission if you make a purchase through one of these links, at no extra cost to you. This is how I hope to keep the website up and running for years to come! Please read my disclosure for more info.
The world of personal finance is flooded with beautiful and sometimes (often) complex worksheets – which assume a certain level of expertise in using Microsoft Excel or its equals. This creates a lot of room for error for those less experienced with these kinds of programs and with that a serious bias in who has appropriate access to these ((un)necessary) tools. This is why, instead of creating just another version of the same complicated worksheets – I provide easy-to-use worksheets with limited access to prevent unnecessary (mistaken) modifications.
With this being said, hoping that every sheet can be used without much explanation, I do feel the need to provide access to some sort of manual for each of my worksheets for those still uncomfortable with using them. If after all this, you still have questions or missing something – reach out! info@financialphilosophies.com.
Last side note: I avoid the use of currency, to make any sheet applicable to your local situation – this does mean that you should try to avoid mixing different currencies into one worksheet though! I would love to think Rp 15,000 is the same as € 15,000 – but sadly this is not the case!
"Your net worth can fluctuate, but your self-worth should only appreciate."

– Chris Gardner
The worksheet – Net Worth Health Check
The input - Your Information
Perhaps one of the easiest worksheet, the input required for this to work is just three little things: your date of birth (dd/mm/yyyy format), your gross annual income and your current net worth (which you can calculate using this worksheet). Without your current net worth, you can still get your expected net worth, with just two points of data!
Golden cells, signify where input is still missing (personally, I always fill every cell, even if it is the amount of zero).

The outcome – Your Current Expected Net Worth
Just with those three points of information, using the principals of Your Money Ratios by Charles Farrell – this worksheet will provide a target for your expected net worth (at your current age) to be able to reach twelve times your gross income by the age of 65, to retire comfortably.
Lastly, this worksheet provides a beautiful gauge to visualize your progress towards this expected net worth, giving you targets at the bottom to help you on your way to reach the target within 5 years!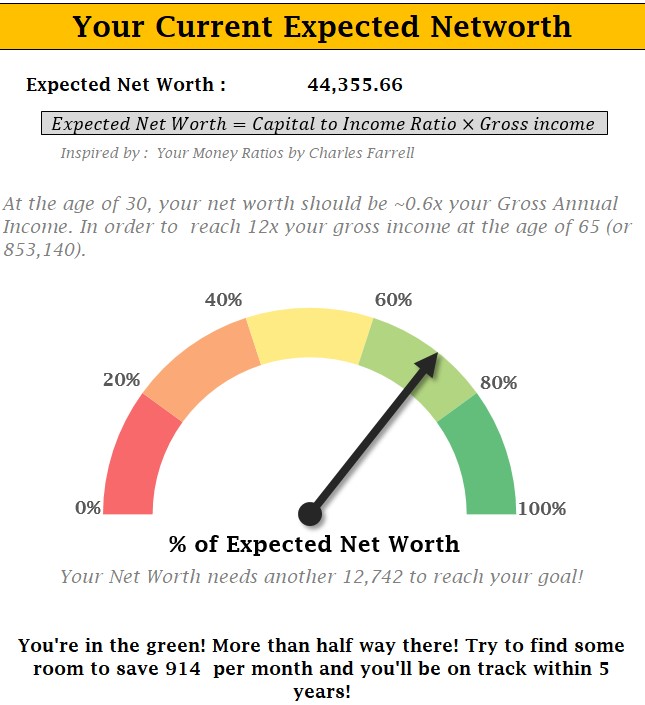 Have any suggestions for improvement or things that you feel are missing? Let me know in the comments below!
We are sorry that this post was not useful for you!
Let us improve this post!
Tell us how we can improve this post?